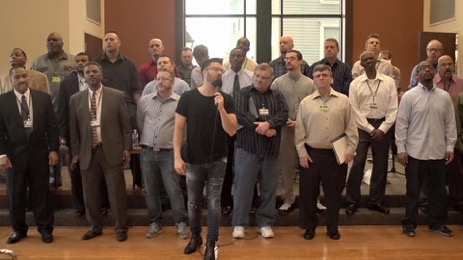 On Sunday, March 13th, IMPACT Collective and Meant 2 Live Foundation featuring Splendor traveled to Helping Up Mission to worship with American Idol alum, Danny Gokey. Helping Up Mission serves drug addicted males suffering from poverty. They've been serving and positively changing lives every day in the Baltimore area since 1885.
We absolutely loved working with Danny Gokey and Helping Up Mission. During the uplifting morning Gokey pulled us aside and said "I love the fact that Splendor is connecting me with Helping Up Mission and I was able to come in, get out of the usual flow and worship with these guys. Immediately the impact when I walked into this place was that I sensed such a good spirt in this room to the point that it melts my heart."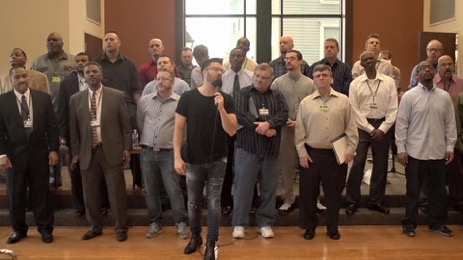 Do you remember watching Danny Gokey on American Idol back in 2008? I certainly do! He rose to national fame by being a finalist in the 2008 season of American Idol. After the show, he signed music contracts in Nashville and went on to be a pop Christian music artist. He has been nominated for the GMA Dove Awards and American Country Awards.
One of the days highlights was Gokey singing his hit song "Hope In Front of Me." He shared the story of his first wife's death and how that shook his faith and drove him into the arms of Christ. Gokey credits his first wife with his success and praises God for pushing him to his faith.
This Splendor event was so powerful and impacted everyone in attendance. It felt like one big family gathering as we were united in one accord with no division between circumstances or social status. Through passionate singing and prayer, it was very obviously that God was in the room with us that day.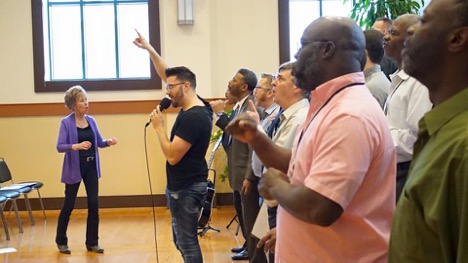 It wasn't only the men from Helping Up Mission who got to enjoy this special experience! Our founder, Eddie Fam, got to play drums in their worship session. He said it was a "beautiful experience." "It was humbling to see an American Idol star come and worship with the homeless," said Fam, "we were one big family. There is no social status in Heaven."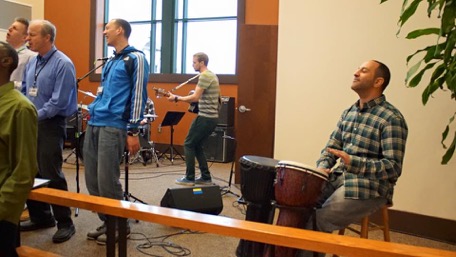 Worshiping with Danny Gokey was an incredibly experience both for M2L and the men of Helping Up Mission. For the full video of this event, click here.