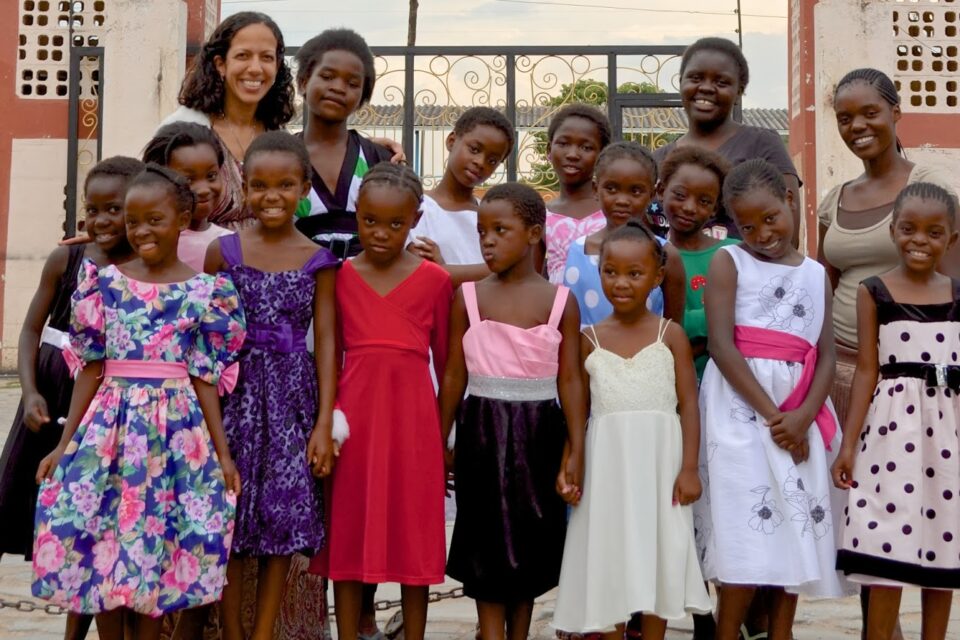 My wife and I just returned home after a week in Lusaka, Zambia with Fr. Abraham and Tasoni Dalia. The trip, which has become a once a year occurrence for our family was incredible and this year was made extra special as we arrived in time for the OZ project kids to get their much awaited and anticipated suits and dresses thanks to the state-side donors and supporters.
We spent the week together, going to school, studying, tutoring, praying, going on visitations, and doing the things we have come to know and love. In the back of our minds though, we, along with Fr. Abraham and Dalia were quietly anticipating the final day of our trip which happened to be the same day the kids would be recieving their new suits and dresses. We didn't plan it this way, but my wife and I were so blessed to be there for this event. In a word, it was incredible.
I had the pleasure and honor of taking pictures of them in their new suits (and dresses for the girls)! There are literally no words to describe just how happy and excited the kids were to receive suits and dresses along with shoes and ties. I am struggling now in fact to describe it myself. The suits and dresses went on, and suddenly the kids were having board meetings, discussing politics on their (pretend) mobile phones, and ordering medical procedures. They wanted to take pictures with each other, some striking a pose on their own, and many would then run to the camera to view what they looked like. Some of the girls couldn't believe it was them the camera was capturing. I couldn't tell if it was because they didn't believe their eyes or if they were genuinely overcome with joy… but it didn't end there…
After taking a few pictures outside the church doors in their new suits and dresses, with big smiles and lots of laughing, handshakes, high-fives, and cheers, the kids, mainly the boys, wanted to take the show on the road and take a few pictures in front of their school (St. Abanoub Christian School) just a short walk from the church. It wasn't until later that I understood why. Yes of course they love their school, but they also wanted their neighbors and friends to see them wearing their new clothes!  So we took a few more pictures…
The girls with Tasoni Dalia
The boys with Fr. Abraham
[So we took a few more pictures] … then we left the compound and starting making our way down the main street, then down the broken narrow alley, over the sewer water, and finally to the rocky dirt roads many of them call home. In the past the boys would jump and splash each other with water, but not today. Today was about looking sharp, staying clean, and protecting their suits. The girls and boys were radiating pride and joy and it was incredible to see and be around!
After arriving at the school we took a few [hundred] more pictures in front of the gate and I watched humbly as their friends and family gathered to see them in their suits and to cheer them on as if they had won a sporting event of some sort. Even folks who were just randomly driving by would comment on how great they looked and for them to keep up the good work. I humbly continued to take pictures but on the inside I was growing more and more excited to see what comes next for this group. This group of young boys and girls are the next generation of leaders in Zambia and it only took a few suits and dresses for them to grasp and feel it for themselves.
Lusaka is a special place, filled with special people, and literally on the edge of an amazing revolution at the hands of the boys and girls you see before you in the pictures here. In all I took over 850 pictures to tell the whole story of the event which lasted about one hour. The pictures are now in the hands of the M2L volunteers both stateside and in Lusaka for further use.  The truth is the boys and girls have grown up… a lot. This is the next generation of church deacons and youth leaders in Zambia and they do not take "no" for an answer! They love their church and their school. They love their mentors too. The OZ Project kids are inspirational, genuine, honest, hard-working, and truly blessed. They are now also very well dressed.
The Next Generation of Leaders